FIRM AND ASSOCIATES
The firm of Sickler, Torchia, Allen & Churchill, CPA's, PC, is comprised of 35 individuals with many years of accounting and auditing experience in a wide variety of industries. Our firm is among the largest locally owned CPA firms in the Hudson Valley area.
Our professional staff includes 10 Certified Public Accountants and each is a member of the American Institute of Certified Public Accountants (AICPA) and the New York State Society of Certified Public Accountants . The firm is a member of the Private Companies Practice Section of the AICPA Division for CPA Firms, and accordingly is subject to a triennial peer review.
An accounting firm is known for the quality of its service. Our firm's reputation reflects the high standards we demand of ourselves.
Our primary goal as a trusted advisor is to be available to provide insightful advice to enable our clients to make informed financial decisions. We do not accept anything less from ourselves and this is what we deliver to you.
We are also members of the Ulster County Regional Chamber of Commerce , Greene County Chamber of Commerce , and Columbia County Chamber of Commerce , The Business Council of New York and the American Institute of Professional Bookkeepers.
Our firm is fully compliant with the IRS PTIN and New York State PTIN (Preparer Tax Identification Number) regulations. A PTIN must be obtained by all tax return preparers who are compensated for preparing, or assisting in the preparation of, all or substantially all of any U.S. federal tax return, claim for refund, or other tax form submitted to the IRS. In addition, in New York State any individuals who are paid to prepare at least one New York State return as a paid preparer, or who helped to issue or administer a refund anticipation loan or refund anticipation check, must also obtain a PTIN.
LOCATIONS & SERVICE AREA
With offices conveniently located in Lake Katrine (Ulster County) and Hudson (Columbia County), New York we are able to serve not only the greater Hudson Valley, but the Capital Region and Metropolitan New York areas as well as the Berkshires.
APPROACH TO PROVIDING ACCOUNTING SERVICES
We believe that personal attention is an integral part of good service from an accounting firm and we pride ourselves on that aspect of our practice.
Our firm is responsive. Companies who choose our firm rely on competent advice and fast, accurate personnel. We provide total financial services to individuals, large and small businesses and other agencies.
To see a listing of our services, please take a moment and look at our services page. Because we get new business from the people who know us best, client referrals have fueled our growth in the recent years.
Through hard work, we have earned the respect of the business and financial communities. This respect illustrates our diverse talents, dedication and ability to respond quickly.
Our high standards, service and specialized staff spell the difference between our outstanding performance, and other firms. We make sure that every client is served by the expertise of our whole firm.
CLIENTS SERVED
We currently provide services to individuals, and clients in a wide variety of industries including financial services (banks and insurance companies), municipalities (towns and schools), non profit agencies and manufacturing. A majority of our clients are smaller locally owned enterprises, and combined comprise our current client base of approximately 4,000.
CONTINUING EDUCATION
We require a minimum of 40 hours of continuing professional education each year for every member of our professional staff. Many staff members receive far in excess of that amount.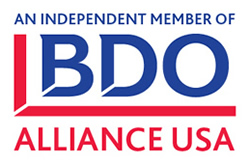 BDO ALLIANCE USA
We are an independent member of the BDO Alliance USA, a nationwide association of independently owned local and regional accounting, consulting and service firms with similar client service goals. By supplementing our services, the BDO Alliance USA allows us to:
Enhance our client services and broaden our capabilities overall.
Expand our domestic and international coverage.
Gain greater technical knowledge in specialty areas.
Utilize professionals with experience in a wide range of industries.
Access the most up-to-date technical information.
Participate in the latest training programs.
Utilize state of-the-art, customized computer systems.
Provide our clients with key contacts and sophisticated professionals throughout the U.S.
The BDO Alliance USA brings us the necessary tools to help us better serve our clients with greater flexibility, efficiency and cost effectiveness. The BDO Alliance USA is a subsidiary of BDO USA, LLP, a Delaware limited liability partnership. For more than 100 years, BDO has provided quality service through the active involvement of experienced and committed professionals. The firm serves clients through 52 offices and more than 400 independent Alliance firm locations nationwide. As an independent Member Firm of BDO International Limited, BDO serves multi-national clients through a global network of 1,264 offices in 144 countries. BDO USA, LLP, a Delaware limited liability partnership, is the U.S. member of BDO International Limited, a UK company limited by guarantee, and forms part of the international BDO network of independent member firms. BDO is the brand name for the BDO network and for each of the BDO Member Firms.
Check us out on BrokerCheck